Mercedes Benz Elite Certified
Porsche Approved Collision Center
Audi Authorized Collision Repair Facility
Maserati Approved Collision Center
BMW Certified Collision Repair Center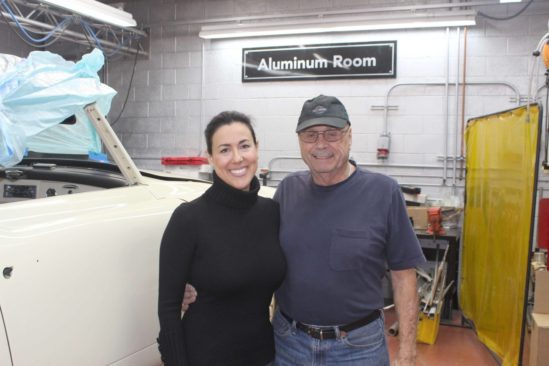 Precision Auto Body is your premier auto body shop in Reseda, CA and we have developed a reputation in the industry as one of the best in collision repair. Our journey started in 1960, in Hollywood, CA where we became the only auto body shop for Hollywood Sports Car and Mercedes-Benz of North America when their headquarters were located in Hollywood.  Precision Auto Body moved to the San Fernando Valley in 1984, and has been family owned and operated since its inception.
We have been the recognized leader in the automobile collision industry, using only factory parts whenever possible. We combine a long history of experience and craftsmanship with the very latest high tech equipment recommended by most import manufacturers.
In addition, not only are we concerned about quality but the environment. This environmental outlook has led us to be one of the first repair shops in California to use a water-based paint system, which was mandated by the SCAQMD as of July 2008. We only use materials that have the best warranty in the industry.  We also invested in the latest technology of solar panels by Sun Power and have installed color-correct LED lighting throughout our shop, which provides more of a natural light setting.
We work well with all insurance companies and can help expedite collision claims to the benefit of all concerned. Our main focus is on maintaining the integrity of your car and your total satisfaction.  We hold several distinguished collision certifications such as Mercedes-Benz Elite Aluminum Structural Repair Facility, Porsche Approved Collision Center, Audi Authorized Collision Repair Facility, Maserati Certified and BMW Factory Trained.  Please see our certifications page for more info. Because we are independent of any insurance company's DRP Program, we are able to make you the customer and not the insurance company. In other words, DRP body shops repair cars according to how the insurance company wants it repaired versus repairing your car according to how the manufacturer wants your car repaired.  We own most of the factory approved equipment required to repair your car back to the manufacturer's specifications and our technicians are highly trained and qualified to fix it right the first time. Although our specialties are high-end cars, we work on all makes and models.
Trusted by some of the most recognizable auto dealers in the valley:
Cars are not just repaired but virtually remanufactured to factory specs on Celette jigs, as required by manufacturers certification. WE WORK WELL WITH ALL INSURANCE COMPANIES!
Hours
Monday  8:00am – 5:30pm
Tuesday  8:00am – 5:30pm
Wednesday  8:00am – 5:30pm
Thursday  8:00am – 5:30pm
Friday  8:00am – 6:00pm
Closed: Sat and Sun
Send Text/Email Message
This is the first time I've used Precision Auto Body. They were referred to me by Mercedes-Benz of Encino. I've been using body shops all my life ...not that I get into a lot of accidents 🙂 I have to say they are the most professional And do the most outstanding work I've ever seen. I particularly would like to compliment Juan Ramirez ... he kept me in the loop the entire time so I always knew what was going on with my Mercedes. When I got it back, it was in better condition than when I bought it new. They had also detail the car which was just far and above and beyond the call of duty. If anybody out there is looking for a very good body shop, they are number one on my list. They are also a pleasure to deal with.
Precision was helpful courteous and there for me every step of the way - they made fixing my BMW enjoyable (I know sounds weird) and the work was excellent ! Navigating my insurance claim was easy with their help and i highly recommend them
Precision was very professional, upfront, clean and organized, They are everything other body shops aren't. Although they typically fix higher end cars, they took care of my Chevy truck as if it were a Mercedes Benz- no discrimination. Awesome Job. Ask for Juan.
Rear ended while exiting a shopping plaza in the San Fernando Valley. Precision Auto Body was one of the recommendations by the insurance company. Chose Precision Auto because of it's location and reviews. Wow!! Totally impressed and grateful for such hospitality and speedy work!! The whole process was super easy and their staff made you feel right at home. Juan was amazing at communicating all the details From start to finish. Repairs were amazing, awesome job!! Would definitely recommend!!
You get what you pay for!! These guys exemplify their name!! My Audi A6 was in an accident involving the front end (bumper, lights, hood, etc.) and it doesn't matter that it took a little longer than planned... Its "Precision Auto Body" NOT "Quick Fix Autobody." I highly recommend this company based on the quality of their work and the professionalism of their entire staff; from Juan Ramirez who was my point person each step of the way to Audrey Coletta who sent me email updates. Thanks again!!
My precious Porsche 718 Cayman was recently hit by someone trying to back out of a parking space. I decided to take my prize possession to Precision Auto Body- as they came highly recommend. I would NEVER take my Porsche to any repair shop for obvious reasons. I will tell you I was more than impressed with the level of service and professionalism - from the front office staff- to George- my repair specialist. They kept me in the loop as to what was going on; and when I picked up my car- the damages area looked brand new- they even washed/ detailed it. The entire process from A to Z was smooth and painless. If you have a car you love; especially a high end car- Precision is the place in the San Fernando Valley!!!
This is not the first time I have been to PAB and once again they do not disappoint. True professionals. They take pride in their work...no wonder all the high end dealerships in the Valley send their cars, like my Mercedes Benz, and customers to PAB. Thank you for your professionalism!