Excellence since 1960
Excellence since 1960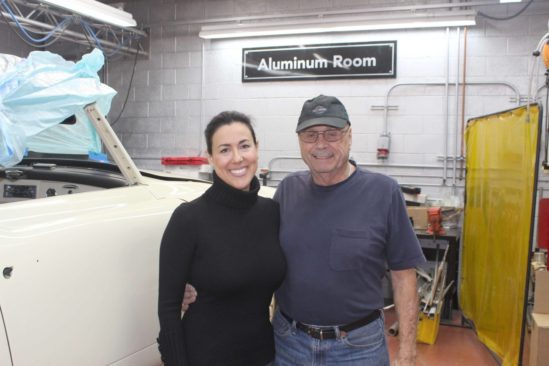 Established in 1960, Precision Auto Body started in Hollywood, CA and was one of the only body shops willing to repair foreign cars. We became the only body shop for Hollywood Sports Car and Mercedes-Benz of North America, when their headquarters were located in Hollywood. Precision Auto Body, which is still family owned and operated, moved to Reseda and have been at this location since 1984.
We have been the recognized leader in the automobile collision industry, using only factory parts whenever possible. We combine a long history of experience and craftsmanship with the very latest high tech equipment recommended by most import manufactures. In addition, not only are we concerned about quality, but the environment. This environmental outlook has led us to be one of the first repair shops in California to use water base paint system, which was mandated by the SCAQMD as of July 2008. We only use materials that have the best warranty in the industry.
We work well with all insurance companies and can help expedite claims to the
benefit of all concerned. Our main concern is your total satisfaction. We work
hard to replace parts and our focus is maintaining the integrity of your car.
We own most of the factory approved equipment and our technicians are
trained and qualified to fix it right the first time.
We are the exclusive body shop for Audi Calabasas, Bob Smith BMW/Mini, Mercedez-Benz of Encino, Porsche Woodland Hills, and Van Nuys Alfa Romeo/Fiat/Maserati. We are a Porsche Approved Collision Center, Audi Authorized Collision Repair Facility, Mercedes-Benz Elite Aluminum Certified, Maserati Certified Body Shop, and BMW Factory Trained repair facility. Although our specialities are high-end cars, we work on all makes and models.
Why Choose Us?
Why Choose Us?
Cars are not just repaired but virtually remanufactured to factory specs on Celette jigs, as required by manufacturers certification. WE WORK WELL WITH ALL INSURANCE COMPANIES!
Repair Process
Repair Process
Hours
Monday  8:00am – 5:30pm
Tuesday  8:00am – 5:30pm
Wednesday  8:00am – 5:30pm
Thursday  8:00am – 5:30pm
Friday  8:00am – 6:00pm
Closed: Sat and Sun
Testimonials
Testimonials
I got exceptional service from Precision Auto Body. In fact, this is the third time I've needed their service and even in the most difficult times they have come through and helped me Juan Ramirez helped me the first two times and he did a great job. He even had my whole car polished including the headlight covers and really made it look great. The receptionist was helpful and friendly. On my last visit, my Jeep Cherokee was totaled and I had a problem with the insurance company. At that point, the GM, Bill Lawyer, took personal interest in my situation, called the insurance company and worked it out on my behalf and saved me over $1000! I can't say enough good things about Precision Auto Body and the service that they have provided me.
I'm a very picky person, especially when it comes to who repairs my high end cars. After researching Precision Auto Body, I chose them to repair my BMW 535i over several other repair shops in my area even though their estimated completion time was much higher than the others. It's evident that they are extremely busy which was also a good sign (for me). Their front office and shop is very clean, neat and well kept. Everyone I spoke to was nice and courteous. When I dropped off my car, I was expecting to Uber back home but one of their employees gave me a ride home which I was not expecting from an auto body shop and also, I don't live close to their location either. George was assigned my case and he originally told me my car would be done on a specific date and it was. Although 2 weeks in there was hope it would be done sooner but in the end they were right on time. I'm very happy with the end results and am glad I went with PAB.
Precision Auto Body did a fantastic job on my Mini Cooper. George explained how the process worked with the insurance company and reassured me this would not the nightmare I've had with other body shops. He was very professional, he emailed and called me with regular updates, and he wrangled the insurance adjusters. He made sure my new Mini looked brand new again. The paint job is practically a work of art. Antonio and Santiago made my car look like it was ready for the car show. I highly recommend Precision Auto Body. George and his team will take great care of you and your car.
I am always unhappy when my car is in the body shop. However, Precision is as good as it gets. Quality craftsmanship and professional interaction. Juan , Luis and Claudia are wonderful to deal with! They are not the cheapest shop in town, but you have to pay a little extra to get better work and service!
You get what you pay for!! These guys exemplify their name!! My Audi A6 was in an accident involving the front end (bumper, lights, hood, etc.) and it doesn't matter that it took a little longer than planned... Its "Precision Auto Body" NOT "Quick Fix Autobody." I highly recommend this company based on the quality of their work and the professionalism of their entire staff; from Juan Ramirez who was my point person each step of the way to Audrey Coletta who sent me email updates. Thanks again!!